Jerry Pitt
June 10, 2020
2022-03-20 21:29
Jerry Pitt
Jerry Pitt and David Franklin continue to co-teach and co-consult on many projects… as they have for many years.
Associate Instructor Jerome Pitt has many areas of expertise including:
• Training – Stormwater Regulations: Construction; Municipal; Industrial
• Volunteer stream monitoring / Environmental Education
• TMDL/WLA Development and Modeling
• NPDES Permitting
• Pollutant Fate and Transport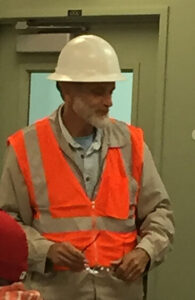 Jerome Pitt has been involved in Stormwater training for over 20 years. He also volunteers as a tutor to students in math and other subjects and volunteers for local watershed events. Jerry and his son, Josh build bluebird boxes for people to place in the environment.
Jerome Pitt has been active in the water quality area for over 30 years.
He has worked in the regulatory and consulting applications for water quality and stormwater concerns, and has robust academic and educational background.
Mr Pitt has been delivering training for stormwater regulations for over 15 years – always emphasizing protection of the waterbodies.
"Jerome has a very deep knowledge of the subject matter. He makes sense of a large amount of complex information." Rod. L – Bakersfield
"Jerome is a knowledgeable instructor who does a good job and keeps the info clear and humorous." Nicholas B. – SLO
"Great course. I feel well prepared for the exam thanks to Jerome." Emmanuel P. – San Diego